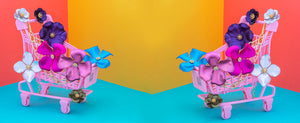 Our Flower Collection has all the features your customers are seeking.  
Are your customers searching for the perfect pair of flower earrings for their next event? We have a vast selection of floral earrings spanning from our hoop earrings with roses to our signature daisy stud earrings. Our earring selection does not stop there! We have various sizes and silhouettes available for your customers to choose from, including floral stud earrings, floral hoop earrings, flower drop earrings, flower cluster earrings, flower statement earrings, small flower earrings, and even big flower earrings.
Do your customers prefer stud earrings over floral statement earrings? Our selection of resin flower earrings studs may be perfect for you! The lotus stud earrings come in several colors, including a pretty peachy pink, flame red, tortoiseshell resin, sunflower yellow, and rose. If your boutique customer is waiting to make a powerful floral statement, our petal collection is the perfect place to start! We have an entire collection of flower petal earrings! This collection centers around earrings created with multiple flower types including, lily, poppy, daisy, camellia, and rose.
We also have floral bracelets so that your customers can create a matching set of floral jewelry. Our flower necklace selection includes flower pendant necklaces, beaded flower necklaces, and our flower choker necklace.
Your customers will not be disappointed with our Flower Jewelry Collection since it has various floral styles, including daisy hoop earrings, camellia rings, lotus flower bracelets, and many other flower jewels!